Unhandled exception from Broker Management
This article was created in response to a support issue logged with K2. The content may include typographical errors and may be revised at any time without notice. This article is not considered official documentation for K2 software and is provided "as is" with no warranties.
LEGACY/ARCHIVED CONTENT
This article has been archived, and/or refers to legacy products, components or features. The content in this article is offered "as is" and will no longer be updated. Archived content is provided for reference purposes only. This content does not infer that the product, component or feature is supported, or that the product, component or feature will continue to function as described herein.
Issue
When opening the Broker Management: BrokerManagement.exe.config file, an unhandled exception error appears. See screenshot below for an error description.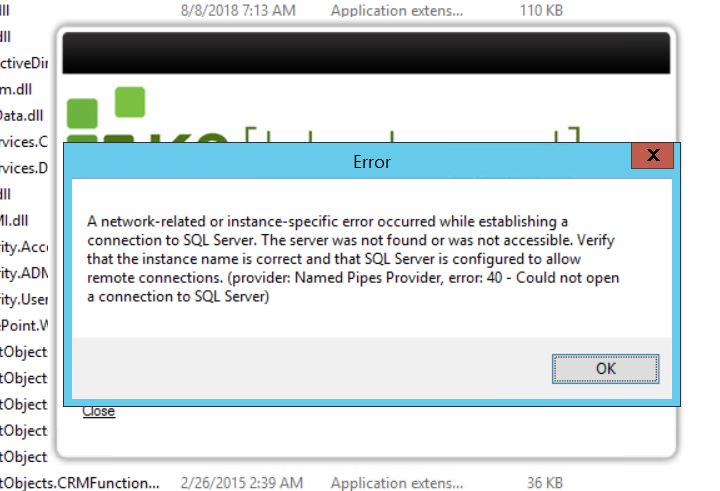 Symptoms
When opening the BrokerManagement.exe.config file from the file directory path: C:Program Files (x86)K2 blackpearlServiceBroker an error message pops up:
Error:
"A network-related or instance-specific error occurred while establishing a connection to SQL Server. The server was not found or was not accessible. Verify that the instance name is correct and that SQL Server is configured to allow remote connections. (provider: Named Pipes Provider, error: 40 - Could not open a connection to SQL Server)"
Troubleshooting Steps
To resolve this issue you have to provide the "correct name" of the providerName.
Navigate to the file directory path C:Program Files (x86)K2 blackpearlServiceBroker and open the BrokerManagement.exe.config using Notepad/Notepad++.
Look for the 'providerName' and add the correct value.