Monthly or Yearly Workflow Schedule not started according to the schedule
kbt156218
PRODUCT
K2 Five
BASED ON
K2 Five (all)
This article was created in response to a support issue logged with K2. The content may include typographical errors and may be revised at any time without notice. This article is not considered official documentation for K2 software and is provided "as is" with no warranties.
Issue
When configuring a Workflow Schedule using K2 Management > Workflow Server > Schedules as either Monthly or Yearly pattern, the workflow is not started according to the schedule.
Symptoms
The issue is specific to configuring the schedule using a setting of The [Number][Day] of every [Number] month(s) for Monthly and On The [Number][Day] of [Month] for Yearly. Additionally, when opening a previously configured Schedule, the "Settings" is displayed as the On [Month][Day] value, instead of the "On The" setting previously set.
Yearly Example (when configured): 
"On the:" option selected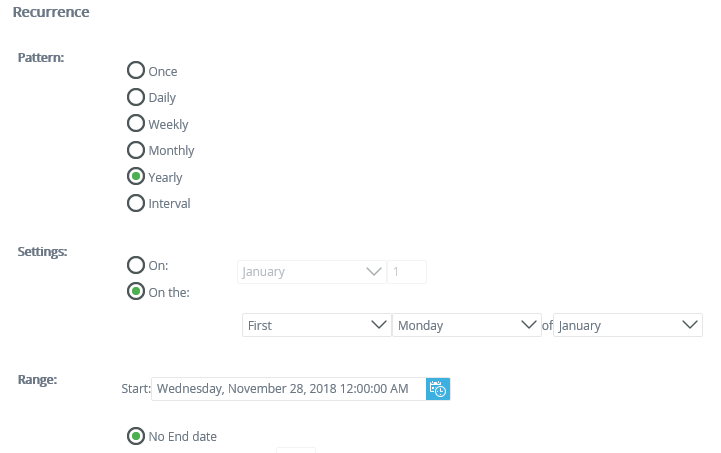 Yearly Example (when edited):
"On:" option selected (incorrectly)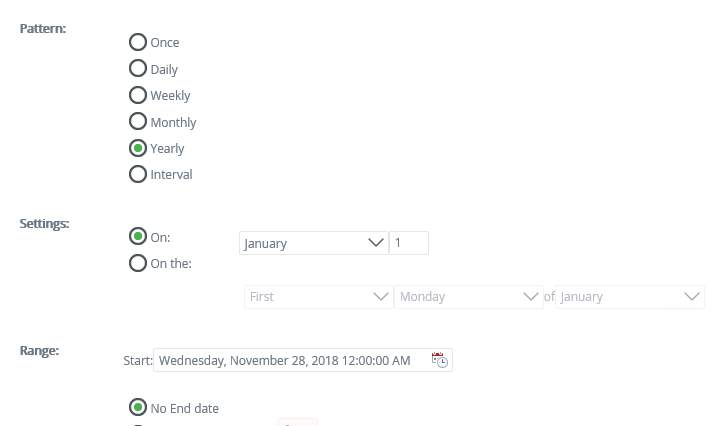 Resolution
At time of writing, the issue was confirmed as a bug and will be addressed in a future update of the product.
The following Workaround can be used:
When creating the schedule, first select the "On:" option and set the Day value to "0". Then choose the "On the:" radio button to set the required schedule.
When setting the "On:" option Day value to "0", a "Must be a positive integer value" message might be encountered. This message can be safely ignored.