HTML5 Designer: Workflow Deployment error due to Special Character on Sharepoint List column
kbt148427
PRODUCT
K2 Cloud
K2 Five
TAGS
Deployment
Workflow Designer
SharePoint
This article was created in response to a support issue logged with K2. The content may include typographical errors and may be revised at any time without notice. This article is not considered official documentation for K2 software and is provided "as is" with no warranties.
Issue
In a scenario where you have one of the following special characters in a Reference " /:*/<>|." HTML5 Designer deployment will fail and show an error message: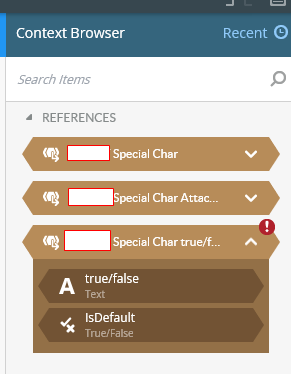 Symptoms
You are unable to deploy a workflow that contains references with special characters
" /:*/<>|."
Resolution
This is an HTML5 Designer specific bug and will be addressed in a future release.
Workarounds:
1) Rename the list and remove the special characters, then regenerate the SmartObjects.
2) If the Reference with the error is not needed in the Design you can delete the Reference from the Designer.
3) In Designer, find the Reference that is marked with a ALM tag (Explanation), right-click the Reference and rename by removing the special character.