Unable to install K2 Connect: [K2 connect 5.0] required product not found message appearing
kbt144309
PRODUCT
K2 Five
K2 connect 5.0
BASED ON
K2 connect 5.0
SEE ALSO
This article was created in response to a support issue logged with K2. The content may include typographical errors and may be revised at any time without notice. This article is not considered official documentation for K2 software and is provided "as is" with no warranties.
Issue
Unable to install K2 Connect. The installer prompts the following message:
"Required product not found: K2 blackpearl Server"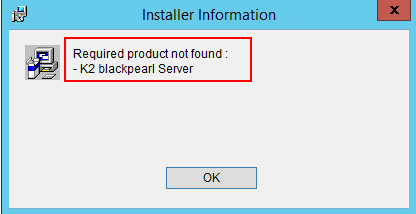 Symptoms
K2 Five has been installed
You are trying to install K2 Connect on the K2 Five server
The version of K2 Connect you are trying to install is 5.001.1000.0.
Resolution
This has been resolved in the latest version of
K2 Connect (5.001.1000.1)
. Please make sure you are installing the latest version.