Known Issue: Upgrading to .NET Framework 4.7.1 incompatible with K2
Description
If you upgrade the .NET Framework on your K2 server to the 4.7.1 release, you will encounter issues with deploying workflows.
Details
The .NET Framework 4.7.1 version was released in October 2017 by Microsoft. More details can be found at https://blogs.msdn.microsoft.com/dotnet/2017/10/17/announcing-the-net-framework-4-7-1/. 
Error Messages
In the server logs, you will see the following message:
Application: K2HostServer.exe
Framework Version: v4.0.30319
Description: The process was terminated due to an internal error in the .NET Runtime at IP 00007FF9E885AC4B (00007FF9E8850000) with exit code 80131506.
An end user deploying a workflow will see the message: "An existing connection was forcibly closed by the remote host."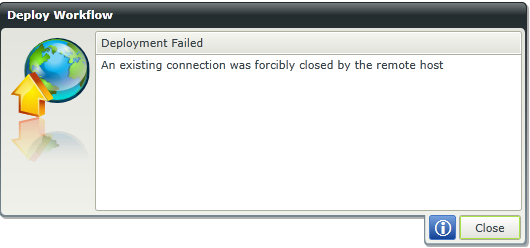 Resolution
K2 blackpearl 4.7: The issue has been fixed in the K2 4.7 November 2017 Cumulative Update Fix Pack 5.  See KB002132 for details. The fix has also been fixed in the K2 4.7 March 2018 Cumulative Update. See KB002261 for details. 
K2 Five: The issue has been fixed in the K2 Five RTM Fix Pack 3.  See KB002137 for details.
Download the latest 4.7 Cumulative Update, or contact K2 Support to get the relevant fix packfor K2 Five.