K2 5.1: API Administrators section missing
KBS100130
PRODUCT
K2 Five 5.1
BASED ON
K2 Five 5.1
TAGS
Management Console
Upgrade
This article was created in response to a support issue logged with K2. The content may include typographical errors and may be revised at any time without notice. This article is not considered official documentation for K2 software and is provided "as is" with no warranties.
LEGACY/ARCHIVED CONTENT
This article has been archived, and/or refers to legacy products, components or features. The content in this article is offered "as is" and will no longer be updated. Archived content is provided for reference purposes only. This content does not infer that the product, component or feature is supported, or that the product, component or feature will continue to function as described herein.
Issue
After upgrading to K2 5.1, you may not see this section on the K2 Management site:

Symptoms
This section is located in the following area in K2 5.0: K2 Management > Integration > API Configuration.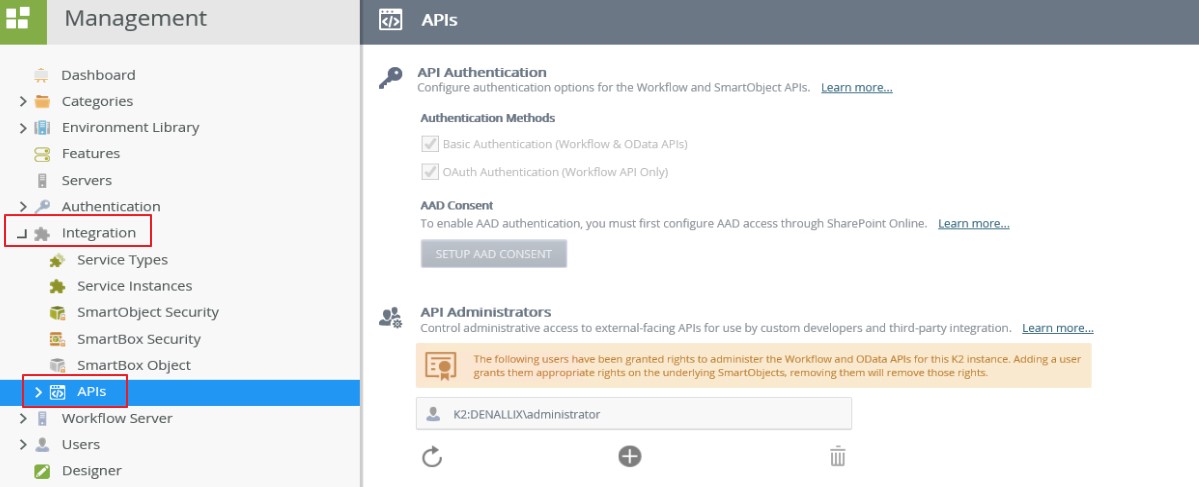 Resolution
In K2 5.1, the API Administrator rights are part of the Server Rights and can no longer be separately configured. The API Administrators section has been removed.
To give the user API Administrator rights, please give that user Admin rights under the following section: Workflow Server > Server Rights.