Installation Health Error
kbt154411
PRODUCT
K2 Five
K2 blackpearl
TAGS
Installation
Microsoft SQL
This article was created in response to a support issue logged with K2. The content may include typographical errors and may be revised at any time without notice. This article is not considered official documentation for K2 software and is provided "as is" with no warranties.
Issue
A fresh install of K2 blackpearl 4.7 fails on Installation Health with the following error appearing:

"Script execute failed: System.Exception: Script execution exception:
Microsoft.SqlServer.Management.Common.ExecutionFailureException: An exception occurred while executing a Transact-SQL statement or batch.
---> System.Data.SqlClient.SqlException:
The MERGE statement conflicted with the REFERENCE constraint "FK_Form_ControlTypeImplementation_ControlType". The conflict occurred in database "K2", table "Form.ControlTypeImplementation", column 'ControlTypeID'.

Group run failed with exception: System.Exception:
Target failed to execute: SourceCode.Data.Form_Form.inject.sql
Target did not complete successfully: Inject Scripts"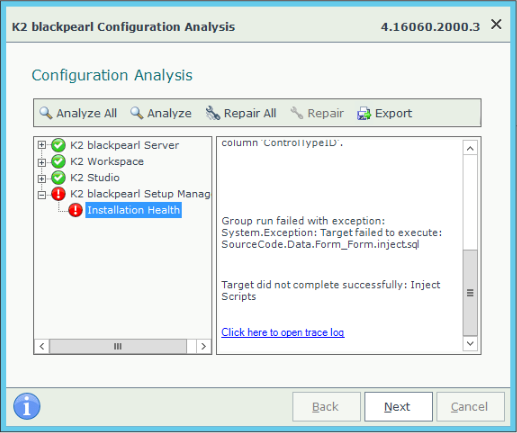 Symptoms
The Setup Manager created the K2 database on an SQL server instance which may not be of a supported
collation
and/or
version
.
Resolution
Ensure that the SQL server adheres to the prerequisites of the K2 version you are installing.

You may refer to the following documentation for more details: