Issue
Unable to install latest Cumulative Update or Fix Pack successfully.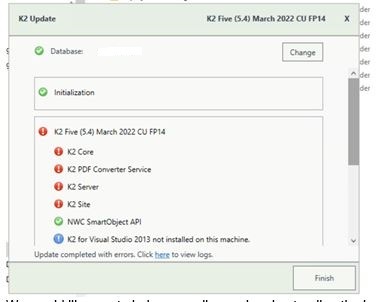 When you check the InstallerTrace logs, you find the following error:
InstallFile.Install: Logged Error: Exception: System.IO.IOException: The process cannot access the file '<path to dll>' because it is being used by another process.
Resolution
When installing a Cumulative Update or Fix Pack, there are some dll assembly files that will need to be replaced. If some other process is using or locking those files, the update will fail. This can happen when you have some sort of anti-virus, security or monitoring software running on the server that is holding up those assemblies.
You can use tools such as Resource Monitor or Process Explorer to find out which process is locking those assemblies, and try to get those locked assemblies released.
Alternatively, you can try rebooting the entire server and apply the Cumulative Update or Fix Pack again. Rebooting the server can help to free up the assemblies from whichever process that is using those assemblies.