Troubleshooting K2 Destination Queue issues
KBS100259
PRODUCT
K2 Five 5.1 to 5.3
BASED ON
K2 Five 5.1
TAGS
Deployment
Roles and Groups
Troubleshooting Document
Support
This article was created in response to a support issue logged with K2. The content may include typographical errors and may be revised at any time without notice. This article is not considered official documentation for K2 software and is provided "as is" with no warranties.
Issue
This article will assist you in troubleshooting common issues relating to the Destination queue functionality within K2.
Symptoms
Issue 1
When starting an instance of a process, the following error occurs:

An activity with a client event should at least have one destination.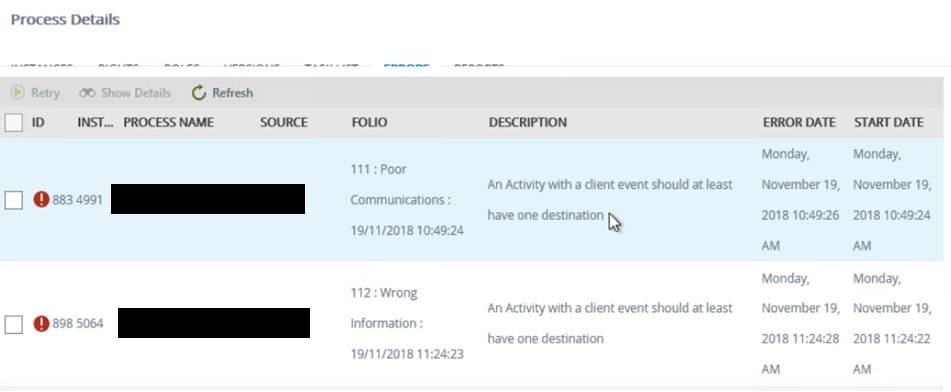 You may notice these errors in the Hostserver logs:
Error","General","24148","UMEmptyQError","K2DestQueue.RunDestQueue","24148 The User Manager 127.0.0.1 returned an empty queue with name [RoleName] "providerName": "SourceCode.Logging.Extension.EventLogExtension", "eventId": 1, "level": 2, "description": "1 The K2.net 2003 Destination Queue SecurityLabel provider '' does not exist at K2DestQueue.RunDestQueue(Object obj)", 

Issue 2
This problem is difficult to identify. However, you may notice 'deadlocks' within your environment and you may notice erroneous entries within the [Server].[DestQueue] table, the Root value will be populated with the GUID.

Troubleshooting Steps
Issue 1
1. When deploying a process via Package and Deployment, the SourceCode.Workflow.Authoring.K2Field role entry is created within the [Server].[DestQueue]. This was identified as an issue with the Product, and resolved within K2 5.1 Fix Pack 11. However, we recommend applying the latest Fix Pack which includes this fix - this refers to K2 5.1,5.2 and 5.3.
2. The K2 Management site adds extra "Provider" data when linking existing Roles to Process Instances which causes [Server].[DestQueue] to believe it's dealing with the older K2.NET 2003 format Roles. To resolve this issue, we need to edit the [Server].[DestQueue] values, and remove the "Provider" value for the relevant roles.
Please contact K2 Support to rectify the problem for point 2.
Issue 2
Please contact K2 Support to rectify the problem as database modification will be required.
Please contact K2 Support if you require further assistance as database modification is not supported:  https://www.k2.com/onlinehelp/k2blackpearl/devref/current/default.htm#Database_Reference.html
Please contact K2 Support, and reference this KB article, and the link below to resolve the problem:
https://community.nintex.com/t5/Internal/Fixing-K2-Destination-Queue-issues/ta-p/122684
Please note the above link is only open to Nintex Support.
Additional links