SmartObject missing from Category after Deploying
kbt186688
PRODUCT
K2 Cloud
K2 Five
K2 blackpearl
BASED ON
K2 Five (all)
TAGS
Debugging
Deployment
Process Development Best Practices
This article was created in response to a support issue logged with K2. The content may include typographical errors and may be revised at any time without notice. This article is not considered official documentation for K2 software and is provided "as is" with no warranties.
Issue
After deploying a SmartObject to a new environment, the SmartObject appears to be missing from the Category.
Symptoms
The SmartObject can be located by searching in Designer; however, the Edit and Delete buttons are missing and the category is blank.

The deployed solution still runs correctly on the new environment. In K2 Management, under the Integration node, we can locate the SmartObject and Execute one of its methods without any errors or issues.

The blank Category is an indication that the re-factoring failed and the SmartObject was deployed under the root site. The solution still works because the SmartObject exists on the new environment but not in the correct category.
Troubleshooting Steps
1. Open K2 Management and click on the Integration node.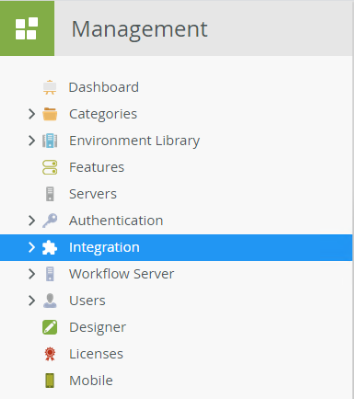 2. In the search bar next to the refresh arrow, search for the SmartObject.

3. Highlight the SmartObject and click on the 'Move-To' button to move the SmartObject to the expected category.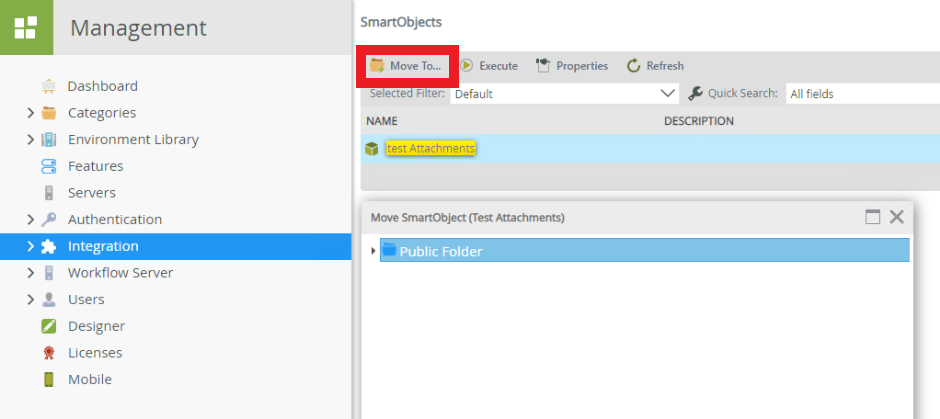 4. After the move is complete, the edit and delete buttons should return and the SmartObject should be located in the new category.
Please note that if the solution is deployed to the environment again, make sure that 'Use Existing SmartObject' is selected. Otherwise, the issue will occur again.