K2 Workspace Error: "Initialization failed before PreInit"
KBS100182
PRODUCT
K2 blackpearl
BASED ON
K2 blackpearl 4.7
This article was created in response to a support issue logged with K2. The content may include typographical errors and may be revised at any time without notice. This article is not considered official documentation for K2 software and is provided "as is" with no warranties.
LEGACY/ARCHIVED CONTENT
This article has been archived, and/or refers to legacy products, components or features. The content in this article is offered "as is" and will no longer be updated. Archived content is provided for reference purposes only. This content does not infer that the product, component or feature is supported, or that the product, component or feature will continue to function as described herein.
Issue
When a specific user accesses the K2 Workspace site, an error is displayed stating:
"An error has occured.
Please contact your administrator."

Error:
"Initialization failed before PreInit: Error: Please verify that all necessary scripts were run and review the error logs."
Symptoms
When a certain user or users access the Legacy K2 Workspace Site (K2 4.7 and earlier) the page does not load and the below error message is displayed.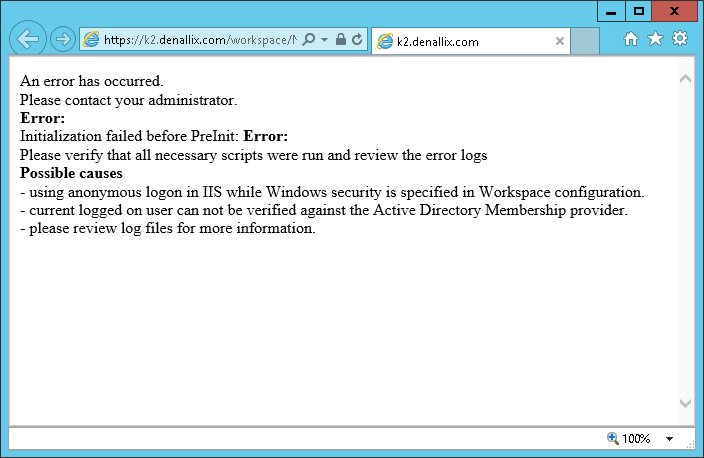 Resolution
The error can be casued by duplicate Workspace Profiles saved for the affected user in the K2 Database.
To verify this, the following SQL Query can be executed against the K2 Database:
SELECT UserID FROM [Workspace].[UserProfile] GROUP BY UserID HAVING COUNT(UserID) > 1
Under normal circumstances, no results should be returned.
Should the results display data, it would indicate duplicate K2 Workspace User Profiles, which is the cause of the error.
To resolve this issue, direct K2 database modification will be required. Please log a K2 Support Ticket on the K2 Customer Portal for assistance in resolving the issue.
Please note that direct K2 database modification is not allowed as it might leave the environment in an unsupported state. This must only be done with the assistance of, or when instructed to do so by K2 Support.