Nintex is thrilled to announce the AI Form Translator, part of the Nintex Forms capabilities of Nintex Automation Cloud. This new capability helps forms designers leverage Generative AI to automatically translate forms into multiple languages on the fly.
This capability follows on the heels of the recently released AI Form Generator feature, adding real-time translation capability to this automatic form generator.
Once forms designers enter plain language text to specify the form they want, the AI Form Generator goes to work to create the form automatically. The new AI Form Translator then translates the form in real time in 10+ languages (111 total languages including RTL are supported), with language determined based on browser settings, presets, or user selection.
You can use the AI Form Translator with AI-generated forms, forms generated by the Nintex PDF Converter, or forms created manually in the designer. The choice is yours.
Translating forms into the different languages of your users is typically a time-consuming and expensive task, with significant management overhead. The AI Form Translator avoids this, translating your forms into any language in minutes. For customer-facing forms, you can now enter new markets faster than ever before, and for employee-facing forms, this capability becomes invaluable for organizations with employees in different countries.
Create forms in the user's native language faster and at lower cost.
Free up your forms designers for more higher value tasks
Accelerate your project's time to value across geographies for customer- and employee-facing forms used in automated workflows.
Forms designers can create translated forms in minutes for any use case, such as:
Event Registration Forms
Employment Application Forms
Loan Application Forms
IT Helpdesk Forms
Exploring the AI Form Translator
Let's take a closer look at the new Nintex AI Form Translator. Here are the steps to get you started:
Admin turns on translations by navigating to NAC Settings -> Form Settings and enabling Translations, Auto Translation, and adding necessary languages.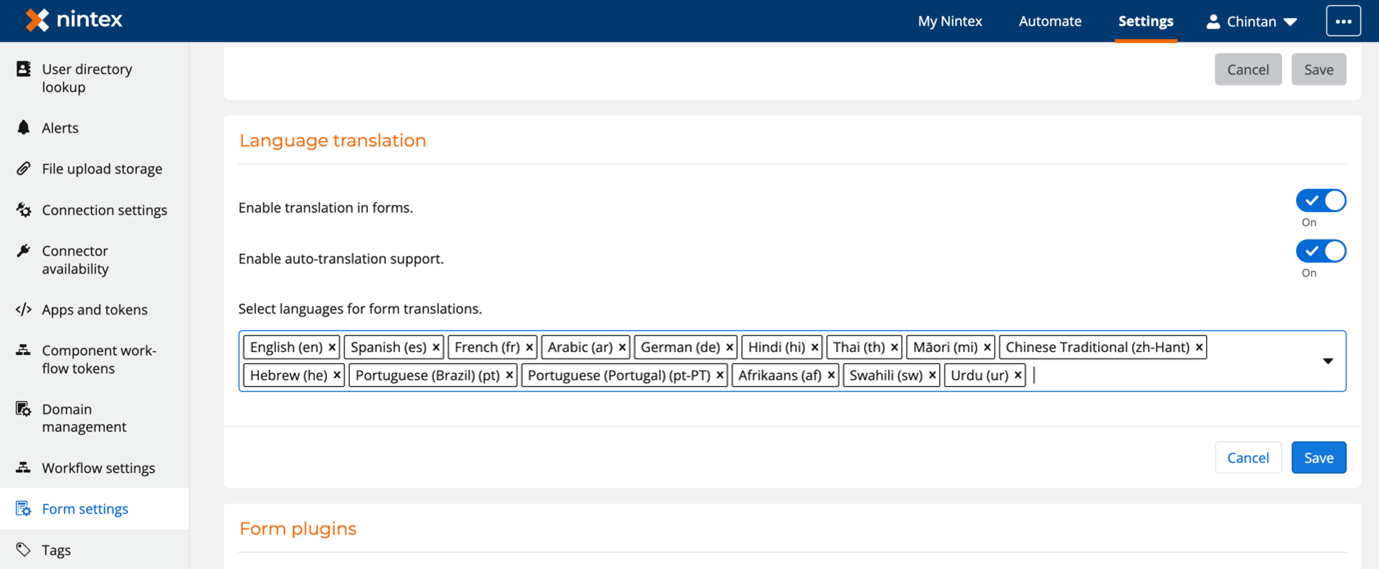 Navigate to Form Designer -> Translations Settings -> add languages from the one added by the Admin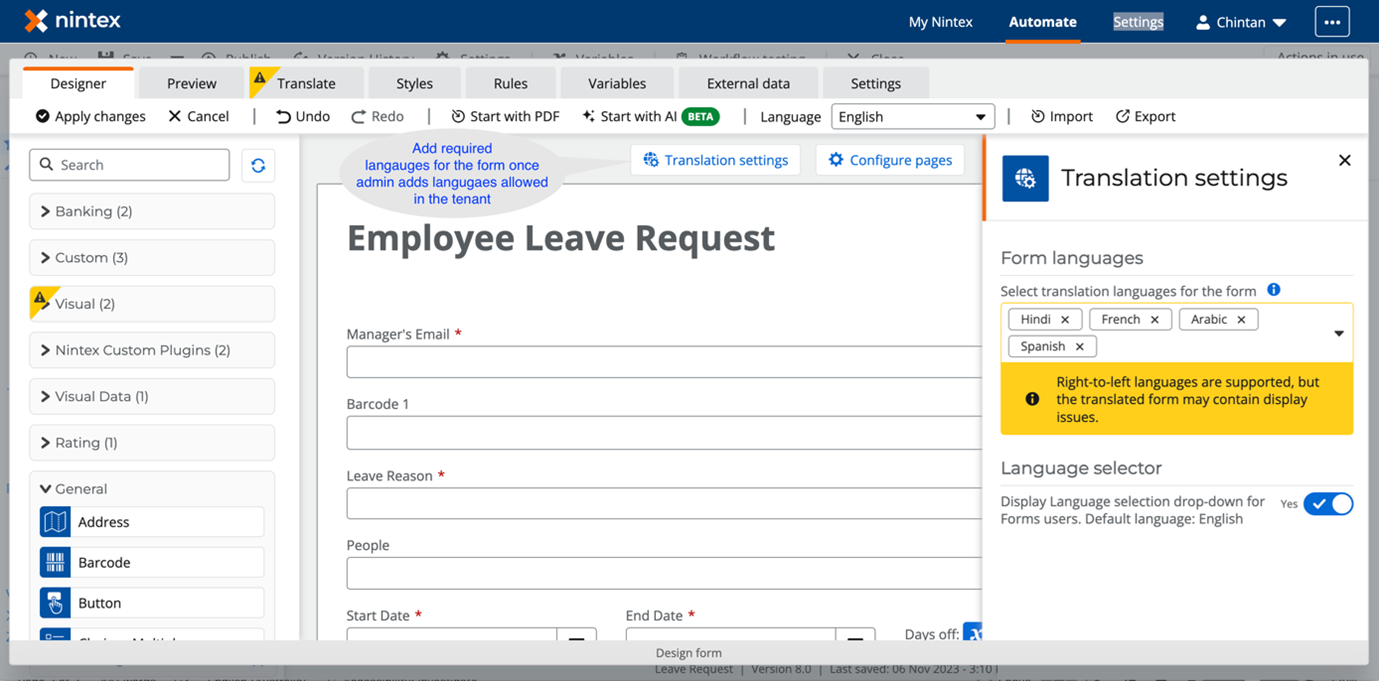 To auto-translate, choose the language from the drop-down menu or click Auto-Translate in the Translate tab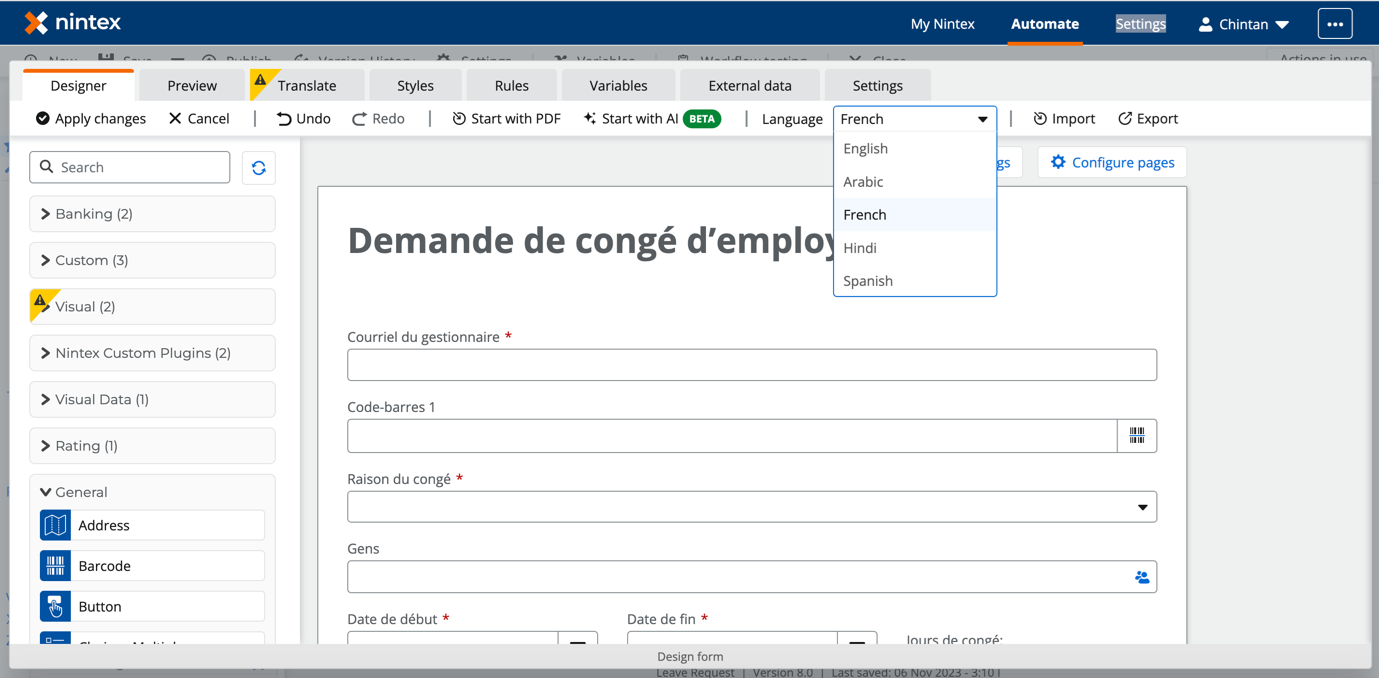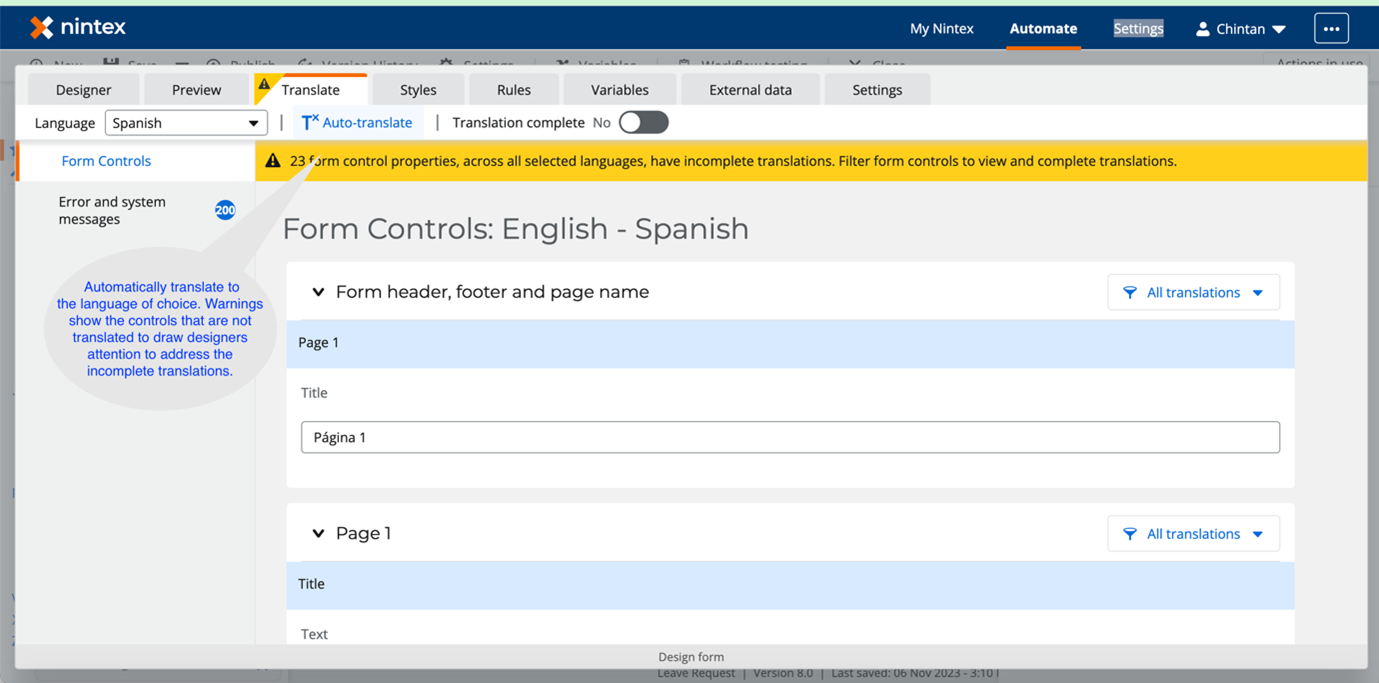 Review translations for controls, system messages and errors in the Translate tab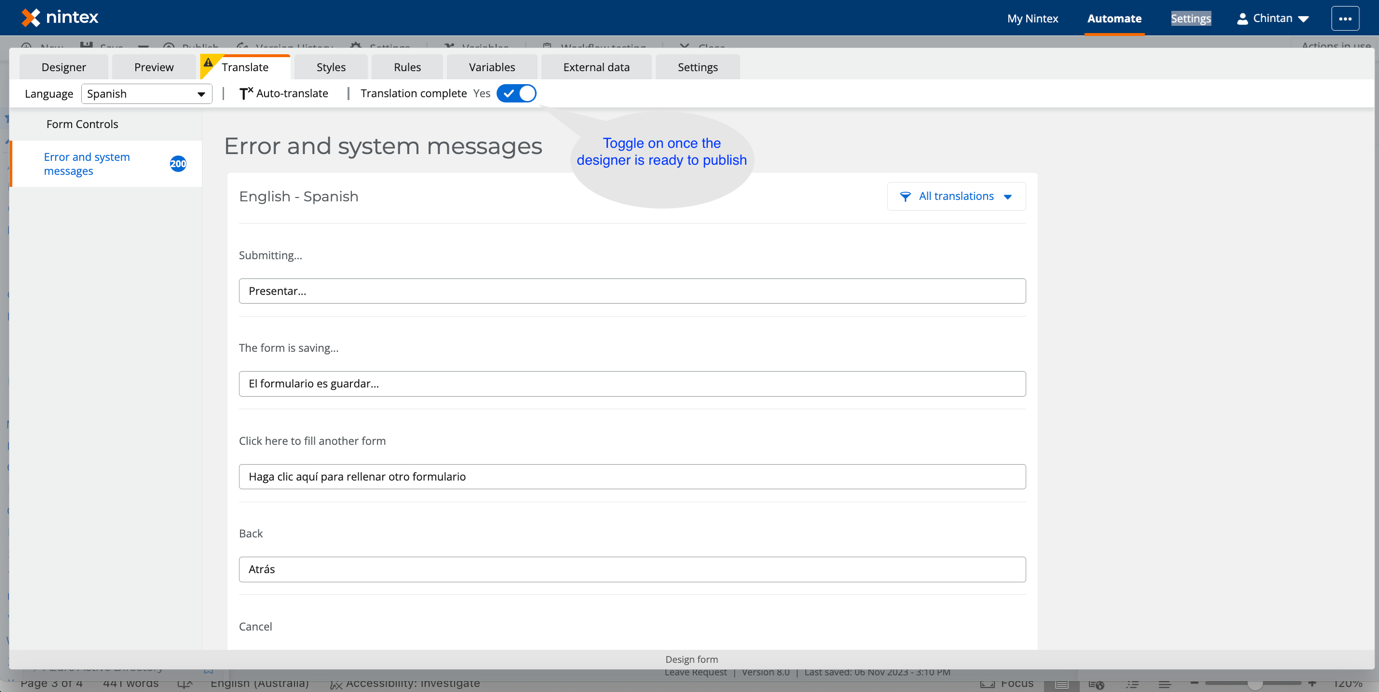 You now have your translated form in minutes! It's that easy!
Roadmap Ahead: Innovations on the Horizon
This is only the beginning of our AI-powered form translation development. Additional planned enhancements include:
Import/ export capability – The designer will be able to easily verify and approve translations by importing and exporting them.
Improved experience with RTL languages – Future releases will address cosmetic issues in Right to Left language forms.
Modify default language – Form designers will be able to modify their default languages beyond English.
Wrapping Up
The Nintex AI Form Translator empowers form designers to create translated forms with unprecedented ease and minimal cost. Stay tuned for future updates and enhancements!
* The information in this article is not a commitment, promise or other obligation to deliver any material, code or functionality. This content is subject to change, without prior notice, at the sole discretion of Nintex.