Nintex is thrilled to announce the AI Form Generator, part of the Nintex Forms capabilities of Nintex Automation Cloud. This new capability helps forms designers leverage Generative AI to automatically generate forms from plain language written input. 
Simply type what you want in your form, and the Nintex Forms Designer does the rest!
Create user-friendly forms more efficiently and with less manual effort. 

Avoid time-consuming efforts to build complex forms structures and logic. 

Accelerate your project's time to value for customer- and employee-facing forms used in automated workflows. 
This exciting new capability provides AI-powered suggestions and guidance for form structure, fields, and conditional logic. It supports all form field types including text inputs, dropdowns, checkboxes, etc. Forms designers can create forms in just minutes for any use case, such as: 
Event Registration Form: Seamlessly craft a comprehensive event registration form with fields for attendee information, ticket selection, dietary preferences, special requests, and additional event-planning particulars. 
Employment Application Form: Generate employment application forms, complete with fields for personal information, employment history, educational qualifications, skills, references, and tailored job-specific inquiries. 
Loan Application Form: Design an efficient loan application form with sections for personal details, financial information, employment specifics, collateral details, and other pertinent information essential for the loan application process. 
IT Helpdesk Form: Simplify the world of IT support with a user-friendly form featuring fields for submitter information, issue particulars, urgency and priority levels, attachments, and any supplemental data crucial for issue resolution. 
AI-generated forms are an easier and quicker alternative to designing forms from scratch. Form designers can avoid dragging elements one by one onto the form canvas, which can be especially helpful for lengthy forms. Additionally, crafting effective forms requires knowledge of how best to request information, what information is needed and in what format, and common field dependencies. Not to mention the time-consuming and expensive work that goes into translating forms into the different languages of your users.
An AI-generated form avoids all that, providing the built-in knowledge of how to design the most effective forms, translating them into any language, and doing all this at lightning speed. AI-powered form creation frees up the time of the forms designer to focus on other higher-value tasks, like how to use the collected information to automate a workflow or identify patterns that fuel better business decisions. 
Exploring the AI Form Generator 
Let's take a closer look at the new Nintex AI Form Generator. 
Access the AI Form Generator through the Form Designer's start options.

The AI Form Generator Interface 
You'll notice a user-friendly AI interface designed for form creators. This interface takes your text-entered form requirements, preferences, and instructions, and performs its magic to generate an initial form structure with suggested fields. 
To illustrate, let's create an Event Registration form. Input what you would like to see in your form, such as attendee information, ticket selection, dietary preferences, special requests, and any other relevant event planning details. The AI even goes the extra mile by providing illustrative examples to guide your query effectively.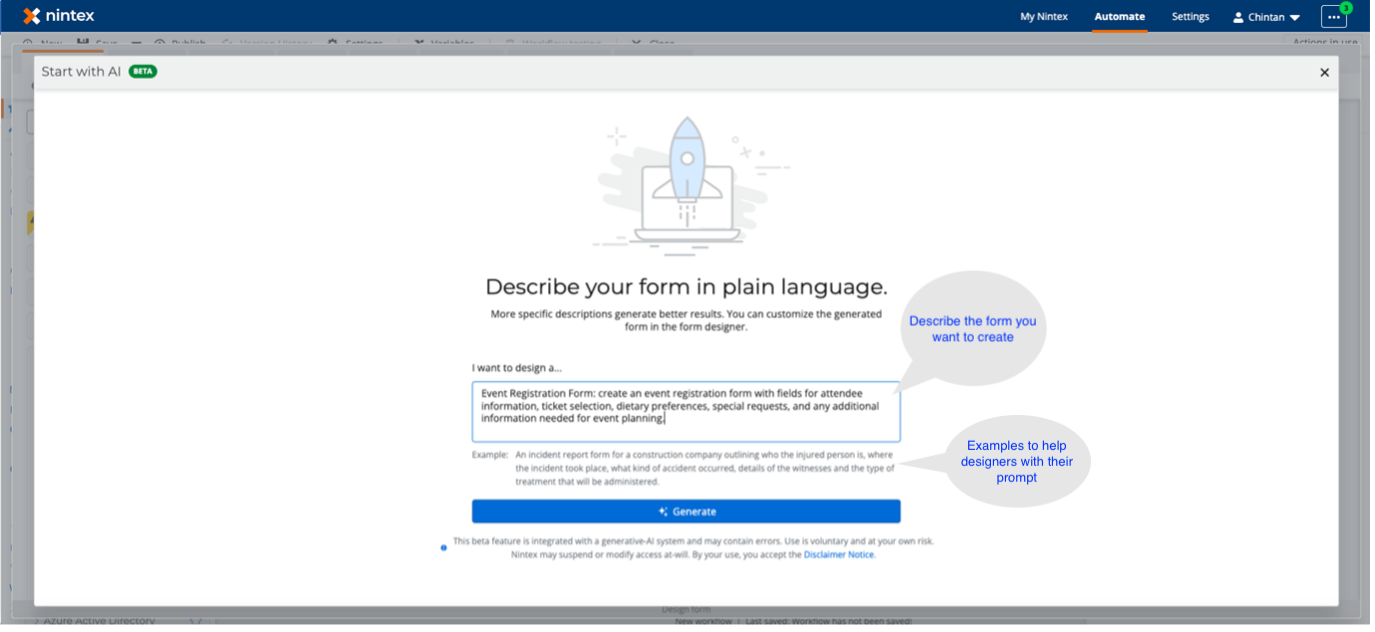 Real-Time Dynamic Rendering 
Once your inputs are provided, the AI Form Generator springs into action, instantly generating and rendering the form in real-time. This dynamic rendering enables you to iterate and refine the form and witness the form taking shape with your changes.
Customization Tailored to Your Needs 
Every form designer has unique preferences and specific requirements, so our AI Form Designer interface offers a range of customization options. You can easily fine-tune the form structure, adding or removing suggested fields to align with your needs. The designer interface provides intuitive controls and thoughtful suggestions to facilitate this process. 
The Nintex AI Form Generator can also group related controls together based on context and purpose, reducing manual effort. Moreover, the tool offers suggested fields rooted in common patterns and best practices in form design. You have the power to selectively choose and incorporate these suggestions to expedite the form-creation process. 

Acknowledging Imperfections 
While AI-generated forms offer substantial benefits, they may occasionally display inaccuracies or provide less-than-ideal responses. The form designer has the ability to fix any issues before deploying the form, right within the Nintex Forms designer interface.
Roadmap Ahead: Innovations on the Horizon 
This is only the beginning of our AI-powered form generation development. Additional planned enhancements include: 
Pagination Support: This capability will generate forms with multiple pages, making handling lengthy and complex forms a breeze. 
Complex Controls: This capability adds complex controls like address fields to the AI-generated forms. Your forms will have the flexibility to accommodate intricate data input requirements. 
Codesign Capabilities: You can work with form design teams to collaboratively create, apply styles, and even implement logic to tailor your forms to perfection. 
Wrapping Up 
With an AI interface, dynamic rendering, customization options, support for various data types, grouping controls, and suggestive fields, the Nintex AI Form Generator empowers form designers to create forms with unprecedented ease and innovation. The journey of AI-generated forms is evolving, and we're excited to lead the way. Stay tuned for future updates and enhancements! 
* The information in this article is not a commitment, promise or other obligation to deliver any material, code or functionality. This content is subject to change, without prior notice, at the sole discretion of Nintex.