This update is to comment on the document: Manually Update O365 Apps 
But since I couldn't add any comments to the document I wanted to blog the quick second step needed with modern site. You will not see update link like the following in modern site mode
But you will see it like this in modern sites
So in modern sites, you cannot update the app as easily. The best way is to use the link in the bottom left corner of the site page to "Switch to classic mode". Then you can easily click the Update link and follow the steps from the original document.
Summary:
The O365 App will sometimes require the update to be manually applied for Forms or Workflow. You will notified of this requirement when accessing the designer.
Product:
All Office 365 Products
Symptom:
"Please update to the current version of Nintex Forms for Office365" // "Please update to the current version of Nintex Workflow for Office365"
Cause:
An update has not automatically applied to your tenancy.
Answer/Solution:
Navigate to the affected site.
Select Site Contents.

Select the App you wish to update, there will be a highlighted link "An update for this app is available"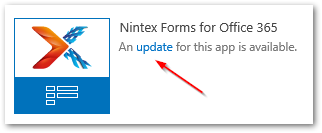 You will be presented with the product page where you can select to update the app via the "Get It" button.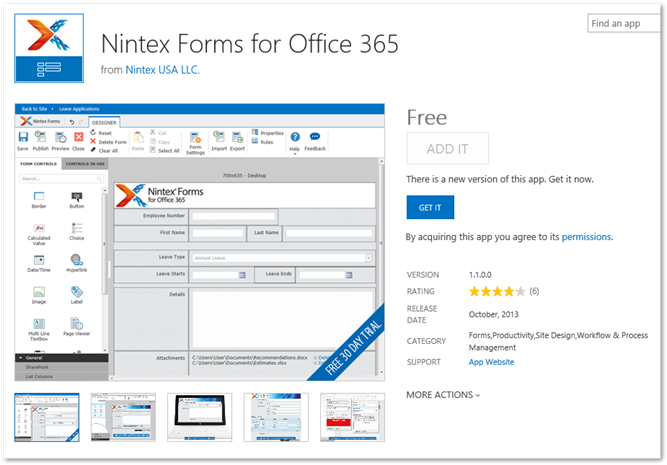 This will provide you with a permissions window to allow you to trust the App, select 'Trust It'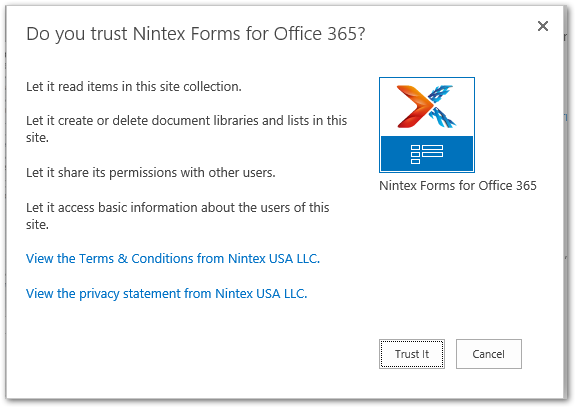 This should ensure that the latest version is installed. You can perform the same steps for both the Forms and Workflow Apps.