Nintex Promapp® process variation shared activities are here. 
An improved way to manage process variations is now available. This new shared activity model for managing process variations means you'll have increased visibility over how changes are propagated, in addition to some other great improvements: 
Conduct side-by-side comparisons between variations.
Drag and drop activities from one variation to another.
Better highlighting for shared content.
Accept/Reject model for changes coming from other variations.
Use parallel activity functionality.
Why have we made these changes? 
Client feedback suggested that with the current variation capability they lacked visibility when making changes to standard processes and clarity in understanding the flow-on impacts to other linked processes.   
Other enhancements requested were: 
Making standard processes visible to everyone. 
Increasing editor visibility so they can see linked content. 
Enabling parallel activity. 
Enabling archiving for individual global variations. 
What has improved with this release?   
No more Standard process - this will be converted to a normal variation. 
Variation to variation change propagation - with shared activities changes can flow from any variation to another if they have common shared activities (denoted by the shared activity icon). 
Variation comparison view, side-by-side view better enables comparison against any other variation in the set. Hovering on activities will highlight which ones are shared, and indicate differences between them. 
Drag and drop tool - you can drag activities from variation to variation, making them 'shared', so changes will flow from one to the other. 
Accept/Reject/Ignore functions - changes won't be automatically added to other variations. Editors will need to accept changes to remain a shared activity.  
Shared activities have some new rules: 

Activity titles must remain the same 
Task content and order must remain the same. 
Note: You can still have differences and remain a shared activity. Documents, Roles, and Notes can be different across variations. Rather than rejecting non-mandatory changes and unlinking from the shared activity, these changes can now be ignored.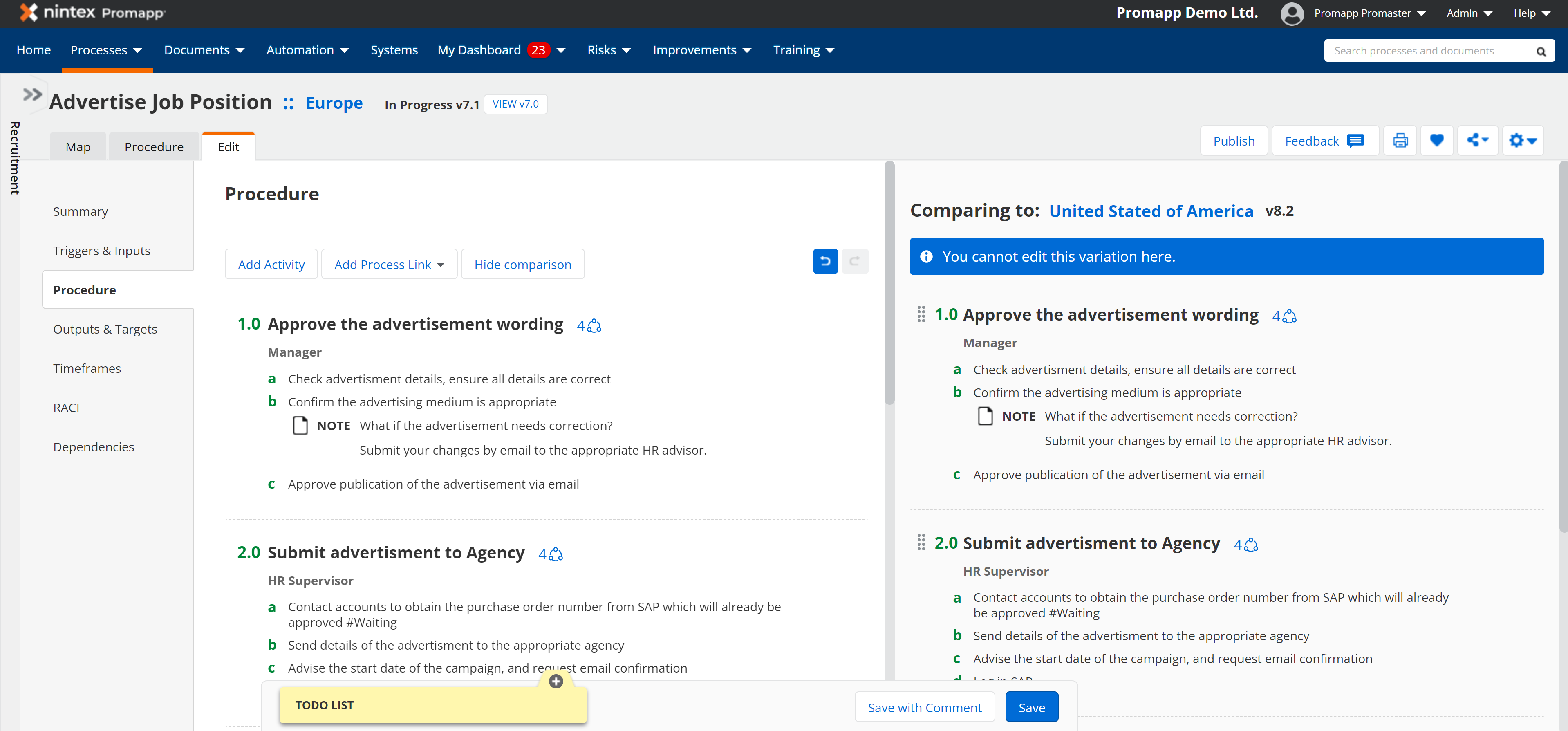 Next steps: 
How do you convert existing variations to the new shared activity model? 
Promapp administrators now have access now to easily convert current variations over to the new shared activity model with just a few easy steps. 
Within Promapp, navigate to the variations section where you will see the new capability to convert all existing process variations to the shared activity functionality.  
You can choose to migrate a single process to test this tool or select multiple processes to bulk convert them all at once.  
In Q4 2022 Nintex will convert all remaining variations for our customers over to the new shared activity model. 
What happens when a variation is converted? 
The Standard process will become a 'normal' variation - this means that normal users will be able to view it like any other published process.
The version will increase by 0.1 e.g. a process with version 5.0 will be 5.1 after conversion. Any process in an Awaiting/Pending approval state will return to In Progress.
Where possible shared activities will be created - if the rules are met shared activities will be created:  
Activity title and tasks must be the same. If these conditions are not met, they will be independent activities – the simple drag and drop tool will get them back into a shared state. 
You'll be emailed a conversion success or failure report, and the conversion dialog will be updated to reflect this.
Process titles will need to be identical to the Standard process. Where the process title is different on variations it will be changed to be the same as the Standard process title.
The variation 'Short Title' will no longer be used. Where applicable this will be replaced with the 'Variation Title' which has a higher maximum character limit.
There will be a new limit of 20 variations per process.  

Clients with more than 20 variations on a process will be contacted before 30 August 2022, and assisted with the migration. 
Need a little more help?