AI-Powered Capability Accelerates Forms Creation and Forms-Based Workflows
We're thrilled to share that Nintex PDF Converter is now included in the Nintex Automation Cloud license, giving all existing customers automatic forms creation capability. This AI-powered feature provides a simple and efficient way to create forms for data collection and minimize errors.
 
What is Nintex PDF Convertor?
With Nintex PDF Converter, form designers can convert PDF documents into interactive digital forms that can be easily modified and customized to capture data.
What are the benefits of using Nintex PDF Convertor?
Imagine a medical institution that relies on paper-based forms to gather patient information, including medical history and insurance details. These forms also typically include fields for obtaining consent and medical prescriptions. Patients are usually requested to manually fill out these forms and return them via email as PDFs. However, this manual process is prone to errors and is often laborious, leading to inaccuracies that can result in serious consequences. To avoid these downsides, an increasing number of organizations are transitioning to digital forms.
Creating these digital forms can be time-consuming and error prone, especially for more complex forms with many varying fields. Nintex PDF Converter significantly reduces the time required to build these forms, accelerating time to value for your digital transformation project.
In addition to medical institutions, other organizations such as educational institutions and governments also use paper-based forms for various purposes. For instance, schools collect student information, admission forms, attendance records, and other academic-related data, while governments use paper-based forms for tax forms, passport applications, immigration forms, council applications, and more.
The Nintex PDF Converter offers several benefits for organizations seeking to streamline their data collection processes while reducing errors:
Improved efficiency:

The tool eliminates the need for manual form creation, saving organizations time and money, and automating business processes.

Increased accuracy:

By converting PDF documents into interactive digital forms, the tool helps ensure that entered data is accurate and complete.

User-friendly:

The tool features a simple, intuitive interface that allows users to convert PDF documents quickly and easily. Additionally, the tool includes useful features such as previewing documents before conversion and selecting specific pages to convert.
How does Nintex PDF Converter work?
Nintex PDF Converter uses artificial intelligence (AI) to analyse the structure of your PDF file. It converts scanned PDF documents into editable formats using machine learning-based optical character recognition (OCR) technology and AI-based document understanding technologies. This means that businesses can easily convert scanned documents, such as invoices, receipts, and paper-based forms, into editable formats.
How do I get started with Nintex PDF Converter?
To get started, click on 'Start with PDF' within the Nintex Form designer and upload your PDF document.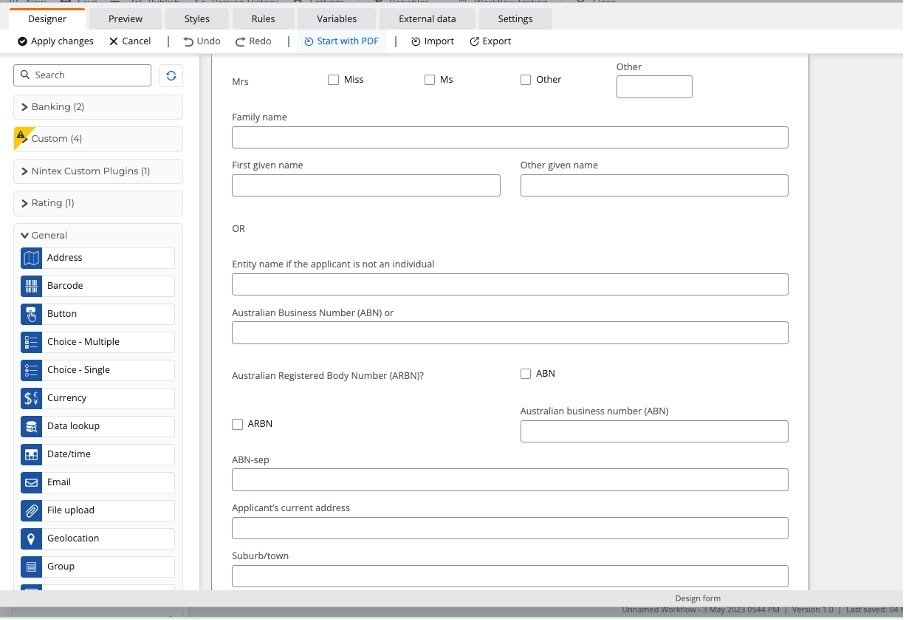 When using Nintex PDF Converter, the designer can select from five actions to ensure accurate conversion of the PDF into a form. The 'Locate' option is particularly helpful when working with lengthy PDFs, allowing the designer to quickly find the converted field on the right side of the screen.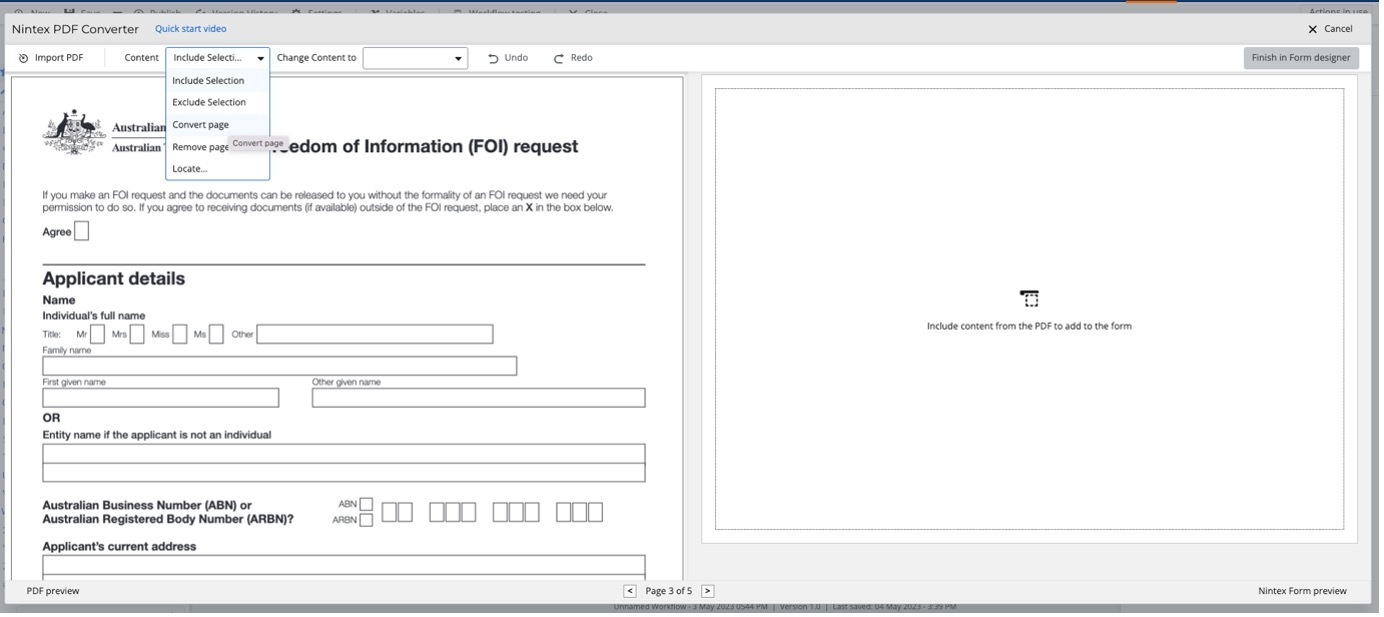 After the PDF content is successfully converted into a form, the designer can access the form designer to make additional modifications such as adding or removing elements, implementing logic via rules, and customizing controls and styles.
In a matter of minutes, Nintex PDF Converter can transform a complex PDF into a complete and functional form. This user-friendly and powerful tool enables businesses to enhance productivity, minimize errors, and streamline their document processing workflows.
For more information, refer to the video and help documentation.