In our latest release of Nintex K2 Cloud, we've added a new feature to make styling your Nintex K2 SmartForms easier than before and made further enhancements to unify the powerful low-code process automation capabilities of Nintex K2 Software with the Nintex Process Platform. 
New Style Profiles
Brand new to the design experience, we are excited to release the Style Profile Designer. In the familiar Nintex K2 Software designer experience, you can now create a new artifact type called the Style Profile. Treated as a first-class citizen, a Style Profile can be created once and used across one or more forms.
By studying and evaluating how our customers style Nintex K2 SmartForms, we discovered several trends:
Styling each control is painful and takes too much time to make each form look consistent.
Creating custom themes, while possible, required a lot of CSS code and wasn't consistent with modern CSS approaches.
Branding SmartForms is critical for using automation applications widely at organizations, especially with external users.

To alleviate these pain points, we added the Style Profile Designer so that form designers and particularly UX/UI designers can style forms more easily, using modern standards such as LESS variables. We took the time to refactor and modernize the CSS and created variables to impact all the Nintex K2 SmartForms controls available in the designer.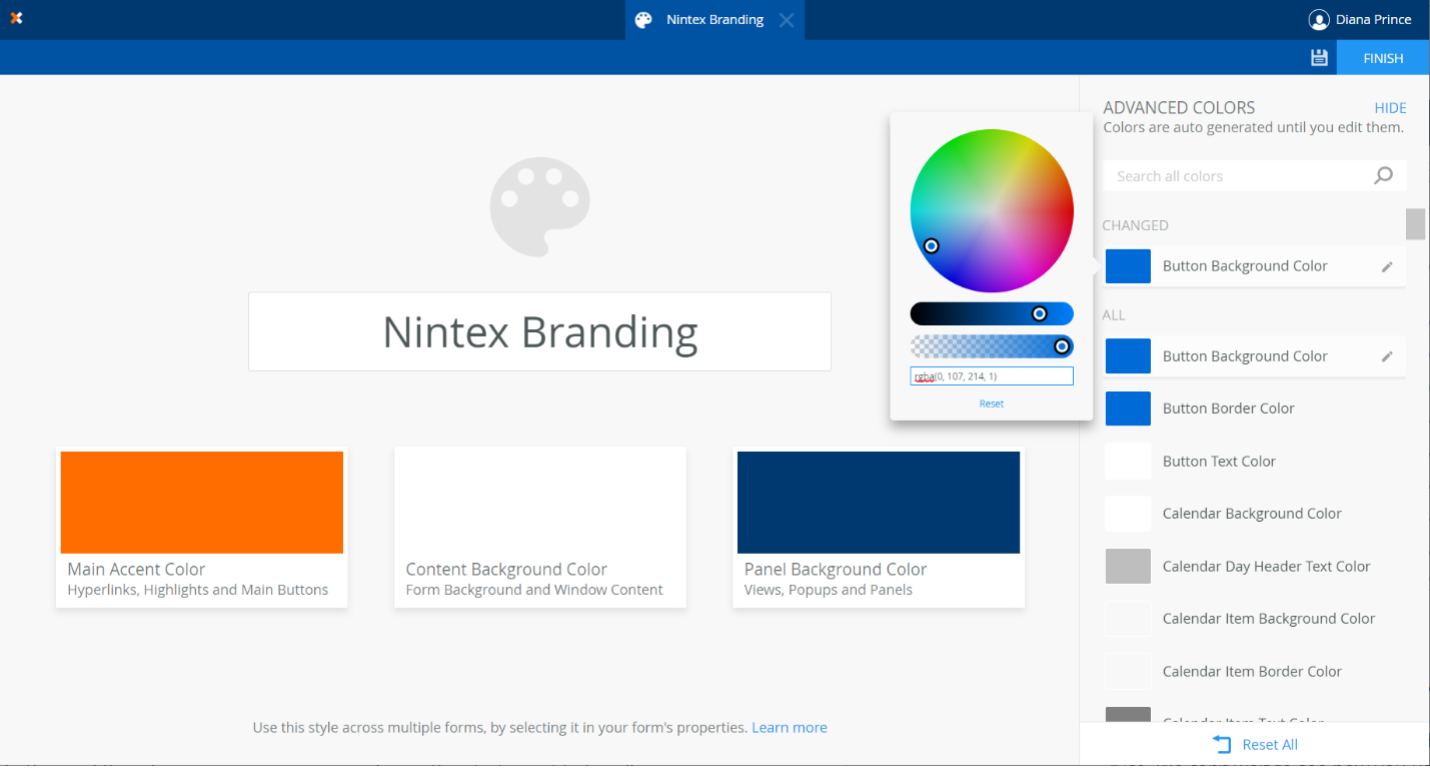 All the functionality you expect from Nintex K2 SmartForms, such as check-in/check-out, create, delete, and the ability to package your Style Profile and deploy it across environments will be available for Style Profiles.
In this release, we've focused mostly on the color-related variables, to easily set main colors, or have more granular control on the colors used on each control type. The release of Style Profiles in Nintex K2 Cloud is only just the beginning, and we will be adding additional styling options in the future.
Additional Features
Unification and Branding
We've made some branding updates in Nintex K2 Cloud to furniture unify the Nintex and K2 brands and enhance the consistencies across the Nintex Process Platform. You'll notice this in the blue stripe across the Designer, Workspace and Management sites.
Platform Enhancements
We've released key infrastructure improvements such as updates to the Microsoft Azure Active Directory (AAD) integration to ensure the stability of K2 Cloud and that your investment has a long life.
For more information on the state of Nintex K2 Software, please see our most recent update webinar here.