Did you search?
Before starting a new topic, use search to check if a similar question has not already been asked. As you start typing your query into the search box, similar topics will appear. To view any of these articles, simply click on the title. You can view all the results or select to ask a new question.
I found a similar topic, but the solution did not fix my problem
If you found a topic similar to the question you have, but the best answer did not solve your problem, create a new topic by Asking a new question to the Community. You can add a link in your post to the topic you already found.
Ask a question or start a conversation
You can create a question or start a conversation in any Community category where you have access. To begin, click on Ask a question in the top right corner. This button will always be available in the top-right corner of the Community.
When the form opens, you will have the option of asking a question or starting a conversation.

What kind of topic are you creating?
Question: Select 'Question' when you need a solution for your question or problem. You will have the choice to mark a "best answer" which marks the topic as solved and highlights its importance in search results.
Conversation: Select Conversation when you want to share something and involve the Community in a discussion.
As you start typing the title, similar posts will appear. These are matched by the title and tags, so here you can also see topics posted which may be like yours.
Title
Create a topic title that summarizes your issue or question, so others can see what the post is about.
A good title should (where applicable):
- Include the activity or action
- Include a unique part of the error you're getting
- Describe the item you're having an issue with.
Your question or conversation
It is vital to give as much detail as possible for others to understand what you're struggling with and what you are trying to accomplish. What did you expect to happen and what was the result?
- State in which area of the product you're working in and which version you're using
- If an error appeared, add the error text and screenshots if possible
- If you've found similar posts, you could add links to these so you don't get answers which are not as relevant to your situation.
Remember to use the formatting options to enhance your post. You can also add hyperlinks, code, spoiler tags, and images, a table, a poll and attachments.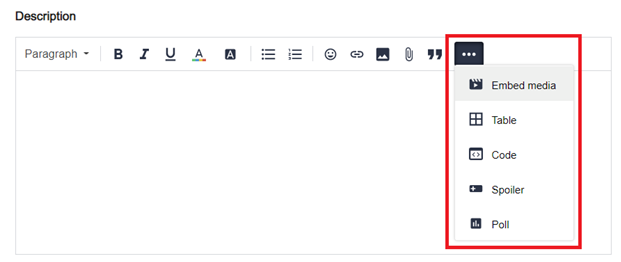 Choose a category
To ensure your topic gets published in the correct section, please choose the relevant product or subject in the category drop-down. Remember to scroll down to see more options.

Message Tags
Tags allow us to search for and find relevant content. By adding relevant tags to your post, you can help others to search for and find the correct content, as well as give additional context to people reading your question. Select one of the conveniently pre-populated tags from the list.
* If you think we are missing any important tags, please let us know by sending us an email: nintex.community@nintex.com
When you are done, click on Create.
 
When your question is answered
If your question has been correctly answered, mark the correct reply as the best answer. And if you resolved the issue yourself, add this as a reply to your topic and mark it as solved. It might help somebody else with a similar issue!
The correct answer will be highlighted and display a green ANSWER button on top of the reply.