A subscription allows you to receive notifications and/or emails whenever a new topic is created in a forum, when a new knowledge article is published, or when somebody posts a reply to a specific topic. You can also follow your favorite contributors.

Subscribe at Category Level
To subscribe to a forum category (such as Community guidelines, or Automation On-Prem Cumulative Updates and Fix Packs), browse to that category and click on the Subscribe button.
To unsubscribe, go to the category and select Unsubscribe.
Subscribe to a topic
By default, you will receive notifications to any topic you have contributed to. However, you might want to follow a topic without posting in it. In this case, click on the Subscribe option which can be found below all topics and articles.
If you no longer want to be subscribed, simply go to the topic or article and click on Subscribe again.
 
View and manage your topic Subscriptions
Click on your avatar in the top-right corner to access the drop-down menu and select Subscriptions.
The default shows the recently active content items first.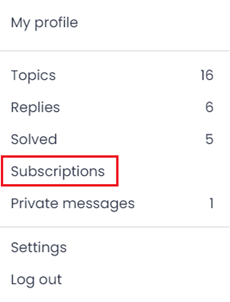 To subscribe or Follow another user, go to that person's profile and click on Follow member.
(You can click on the "following" button if you no longer want to follow this user.)