Repeating sections are a critical and heavily used piece of functionality in Nintex O365 forms which allow users to solve a wide range of problems. These problems involve building up lists of data for use cases ranging from inventory lists, incident reports right through to expense forms. Repeating sections are the most heavily requested feature for Nintex Workflow Cloud on UserVoice, and I'm happy to announce you can now use them in NWC. Not only that, but they come with some awesome new functionality - row calculation.
It's clear from customer feedback that users need a reliable way of performing row based calculation relating to items, e.g. line total​, to help inform form participants and capture relevant data. By adding the "current row" concept to our repeating sections object - we have allowed to do this quickly, as well as still provide the existing collections of controls for other use cases. e.g. adding up the items in a column.
See the example below where "Line Items" is a repeating section containing three fields, "Quantity", "Price", and "Line Total".
 

We have provided two ways of inserting row calculations in NWC: using a variable in label control or setting the value of a control via a rule. 
 
Inserting a variable into a label: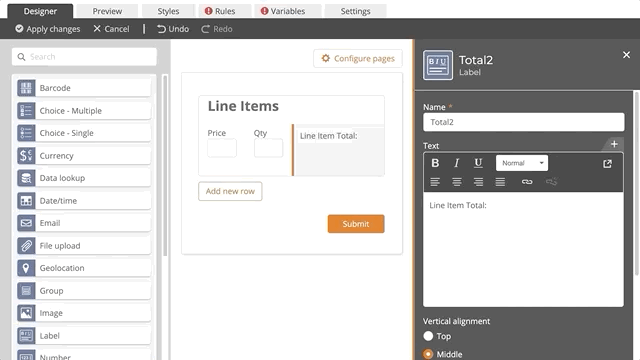 Using a rule:
Please note that the use of "Current Row" will be restricted to within its respective repeating section and warnings will be provided if it is used outside it.
There have also been some updates to the variable panel in forms providing an improved look and feel, and a better user experience. These changes will bring forms more inline with workflow in our effort to create a more unified consistent experience across our products, and enable easier identification and navigation through object variables.
Please check out our short video with a more detailed explanation and scenarios explaining this new functionality