Topic
When using a botflow that was created in an earlier version of RPA, the size column in the data pane will look different.
Previously RPA had a max character length of 255 characters for the text type and this has been increased to 64k. The max of all text fields cannot exceed 1,750.
When the botflow is initially run in the new version, all the text fields will change to 64k in size except the AUTO_ID at the top of the list, LOGTEXT, ADDED and RECORDNMBR at the bottom. Any fields that are not text will have other size defaults as well.
Instructions
RPA will automatically try to determine the type of data in each column, but these types can be changed during the import process.
All dates in the Value section will appear with a timestamp as shown below.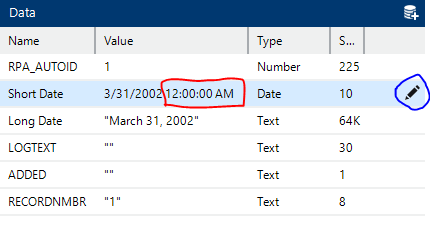 To determine the actual value of the variable, click the pencil as shown above and, in the screenshot below, notice the value does not have the timestamp.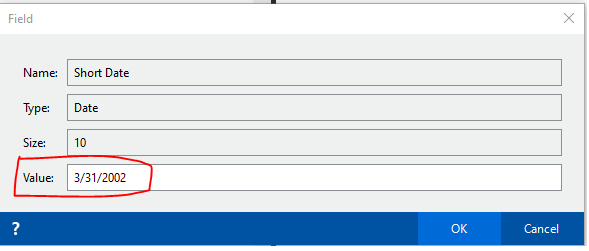 The Value field will show the actual value that RPA recognizes of any type of variable in this field and this value is what RPA will send if this variable is used in a send action to another application, such as a web page.
Additional Information
If this value is not what was intended, check the type and make sure it is the appropriate one or use the Set Variable action located under the Data option in the left menu.
Related Links