P&D Validation Errors on Deployment (List template Versioning enabled)
kbt149032
PRODUCT
K2 Five
TAGS
SmartObjects
SharePoint
Package and Deploy
This article was created in response to a support issue logged with K2. The content may include typographical errors and may be revised at any time without notice. This article is not considered official documentation for K2 software and is provided "as is" with no warranties.
LEGACY/ARCHIVED CONTENT
This article has been archived, and/or refers to legacy products, components or features. The content in this article is offered "as is" and will no longer be updated. Archived content is provided for reference purposes only. This content does not infer that the product, component or feature is supported, or that the product, component or feature will continue to function as described herein.
Issue
Creating a package from a list where versioning is enabled and then deploying to a destination list which also has versioning enabled in some cases will show P&D deployment validation warnings that the source and target doesn't match.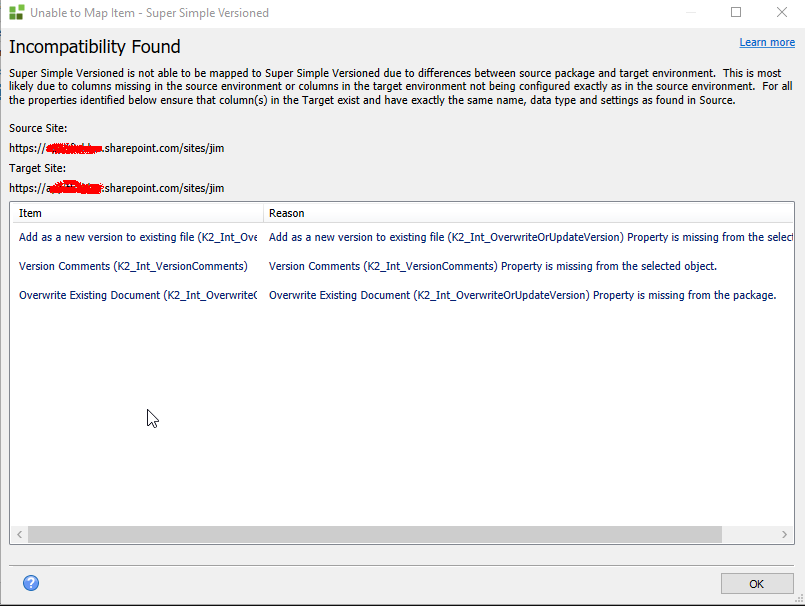 Symptoms
Package and Deployment Validation issues appear where templates match 100%.
Outside of P&D the issue can also be seen in cases where you create a list (Versioning disabled) and then create Data / SmartObjects for the list. If one then enables Versioning on the list and navigate back to the Artifacts page, you would expect the SmartObject to validate and prompt to regenerate. This is not the case.
Resolution
This is a known issue and should be fixed in K2 Cloud Update 6 later this year.
Workaround:
Depending on the validation message either the Source (Package) or Target might be missing the versioning properties in the SmartObjects. Either way one can try the following:
- Disable Versioning on the target list and deploy.
- Manually force a regenerate on the SmartObject from the source artifacts page and re-package.