Unable to deploy workflow with "Missing reference at Activity 'Task'" error appearing
kbt149199
PRODUCT
K2 Five 5.1
BASED ON
K2 Five 5.1
This article was created in response to a support issue logged with K2. The content may include typographical errors and may be revised at any time without notice. This article is not considered official documentation for K2 software and is provided "as is" with no warranties.
LEGACY/ARCHIVED CONTENT
This article has been archived, and/or refers to legacy products, components or features. The content in this article is offered "as is" and will no longer be updated. Archived content is provided for reference purposes only. This content does not infer that the product, component or feature is supported, or that the product, component or feature will continue to function as described herein.
Issue
The following error appears when deploying a workflow: 
"Missing reference at Activity 'Task'. Error. A item with this name already exist on this container"

Symptoms
When you add
three or more actions
on a workflow task step, you might receive the missing reference error which will prevent you from deploying the workflow.
Troubleshooting Steps
This issue has been fixed in K2 Five 5.1 FP 4: https://help.k2.com/kb002490

If applying the fix pack does not fix the issue, you can use the following workaround:
- Rename all the Task Results in 'Results/Voting' tab in the Task step.

Example: Approve > Approved , Cancel> Cancelled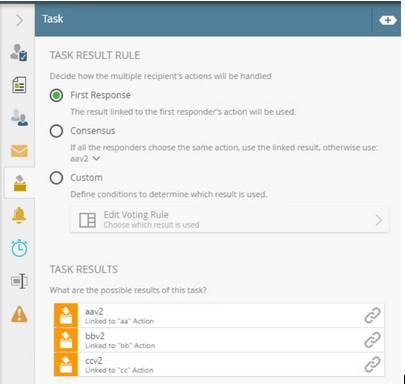 This issue has been fixed in K2 Five 5.1 FP 4: https://help.k2.com/kb002490