'Get confirmation from user' rule shows unexpected behavior if a for-loop is executed after




This article was created in response to a support issue logged with K2. The content may include typographical errors and may be revised at any time without notice. This article is not considered official documentation for K2 software and is provided "as is" with no warranties.
LEGACY/ARCHIVED CONTENT
This article has been archived, and/or refers to legacy products, components or features. The content in this article is offered "as is" and will no longer be updated. Archived content is provided for reference purposes only. This content does not infer that the product, component or feature is supported, or that the product, component or feature will continue to function as described herein.
Issue
When a
for-loop is executed
after
the "
get confirmation from user
" action
rule
, the for-loop and other rules that follow are still fired even though the 'Cancel' button is selected.
Symptoms
Here is an example that illustrates the issue.
The rules are configured as follows: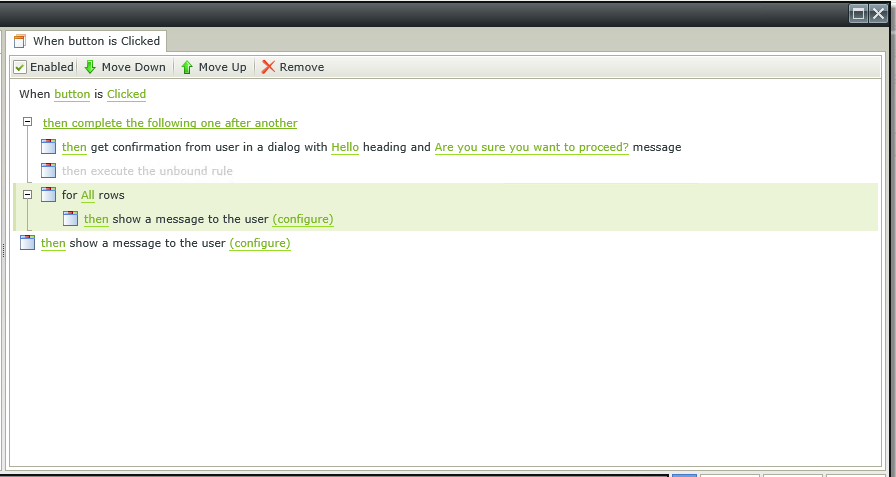 1. On the confirmation dialog box, click on the "Cancel" button.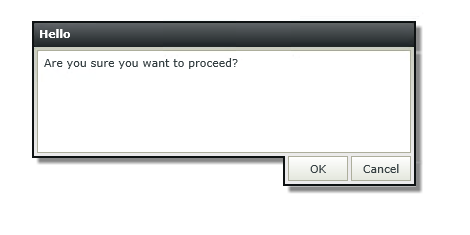 2. The for-loop and show a message rules are still active. The expected behavior is that it should not continue with the execution of the rules.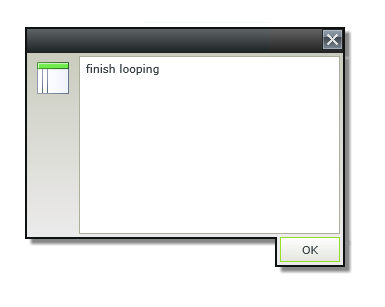 Resolution
This has been logged as a bug and will be addressed in a future release.
As a workaround, you may add an unbound rule for the for-loop and the other rules that follow.
Then, call the unbound rule as a nested rule. Use the "Execute another rule" action rule.