Summary:
I recently came across a case where a user had a large amount of Site collections and sites where the inheritance for the workflow error & cancellation notification had been broken and there was no management of assignments of notifications. The customer wanted to find a way to view the current settings for their entire farm so they could find and replace a specific user.
Product:
Workflow for SharePoint 2010;Workflow for SharePoint 2013;All Workflow for SharePoint on-premises
Answer/Solution:
To find out more on this setting please read the following: HelpFileExcerpt
The view of the setting within SharePoint is the following:



It is possible to view the settings based on the Nintex Content Database. There is a table called 'dbo.ErrorNotifications'. Note: If you utilize more than one Nintex Content Database then you will need to check the table on each database.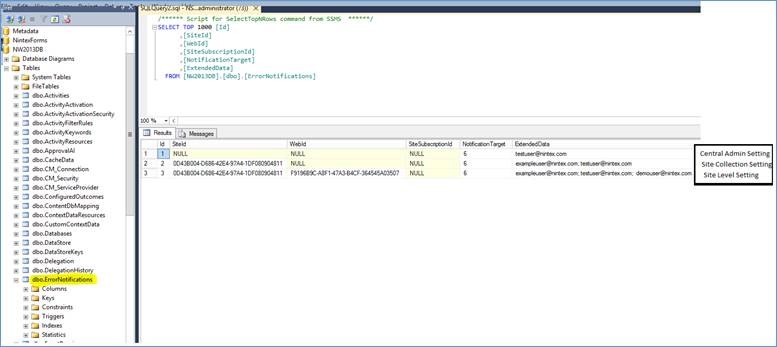 Take note of the examples given, there is currently a defined user based on Central Admin, 1 Site Collection and 1 Site specific setting. You can se the SiteID and WebID to identify which sites they are. You can then either manually update the setting via SharePoint, Edit the row manually or you can run an SQL Script to perform the update.
Generally the Replace () function was used to perform an update across the entire table:

https://msdn.microsoft.com/en-GB/library/ms186862.aspx