Upgrading to K2 Five or K2 5.1 will fail and incorrect password is used for registering the K2 Service
This article was created in response to a support issue logged with K2. The content may include typographical errors and may be revised at any time without notice. This article is not considered official documentation for K2 software and is provided "as is" with no warranties.
Issue
You are currently working on upgrading to K2 Five from 4.7. The upgrade will fail on the K2 Server step and you will get some of the below errors in the InstallerTrace logs: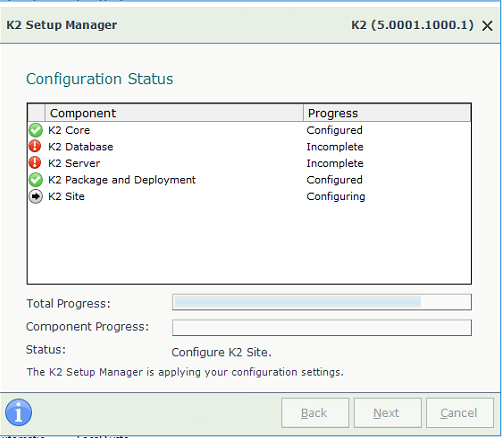 "AuthorizationBase.Execute: Logged Error: Failed: System.Net.Sockets.SocketException (0x80004005): No connection could be made because the target machine actively refused it 127.0.0.1:5555"
"ActionGroup.Execute: Logged Error: Target failed to execute: RegisterIdentity ActionGroup.Execute: Logged Error: Target failed to execute: RegisterRole"
If you also are updating the K2 Service account password to include special characters and you run a reconfigure/repair, this behaivor will also show.
Symptoms



The "K2 Server" service is not started.







Starting the service gives an error about "incorrect credentials".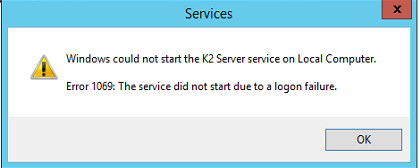 After updating the credentials on the service manually, the service will start.






After the service can start, you might try to hit the K2 Management site and notice that there are a large amount of errors and the page does not load properly.






Your installer trace logs show that many packages such as SharePoint 2013.kspx or Management.kspx have failed to deploy. For example you would see an error similar to the following:



"Component.ExecuteTarget: Logged Error: Target did not complete successfully: Management.kspx"
Resolution
This is currently a known issue within the K2 product. For now the recommended workaround is to update the service account password to remove any special characters. Follow these steps for this workaround:
1. Update the K2 Service account in Active Directory to no longer have special characters.
2. If logged into the server as this same service account, log out and then back in. Credentials for the old password will be cached and you will not be able to get past the page on the setup manager for the DB connections.
3. Run a repair via the K2 Setup Manager.
If you find that the Service Account is still getting locked out in Active Directory after you made a change to the password using the above steps, refer to the following KB for other common places the old password could still exist: http://help.k2.com/support-services/kbt137088