How to access K2 Resources via a provided FTP with File Explorer and Internet Explorer if an error appears
This article was created in response to a support issue logged with K2. The content may include typographical errors and may be revised at any time without notice. This article is not considered official documentation for K2 software and is provided "as is" with no warranties.
Objective
If you cannot open an FTP site to access K2 resources in either Internet Explorer or File explorer, verify that "Use Passive FTP" is unchecked in Internet Explorer's Advanced Settings.
Before You Begin
Make sure you are an admin so that you can modify and change the settings within Internet Explorer.
How-to Steps
1. Open Internet Explorer.
2. Navigate to the top right corner of the browser and click "Settings Icon".

3. Navigate to and click on "Internet Options"

5. Navigate to the "Advanced Tab" in the Internet Options Window:
6. Scroll down in the tab and look for the option with the label "Use Passive FTP (for firewall and DSL modem compatibility)". Uncheck this option and click apply.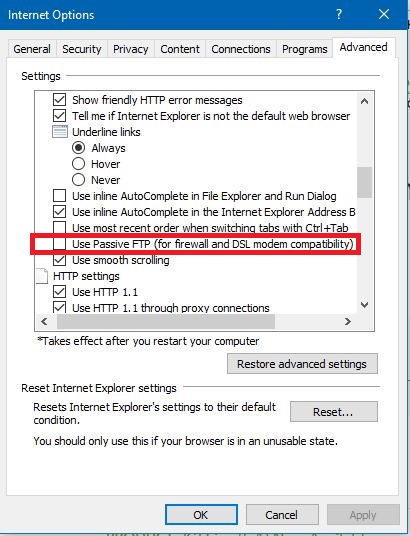 You can then click "OK" and close the window.