Error when creating K2 Application from a SharePoint List/Library: "SmartObject Server Exception: Authorization failed."
This article was created in response to a support issue logged with K2. The content may include typographical errors and may be revised at any time without notice. This article is not considered official documentation for K2 software and is provided "as is" with no warranties.
Issue
On the "Create K2 Application" page for a newly appified SharePoint list or library, after selecting the K2 artifacts to be created and hitting "OK" to continue onto the next page, a "
SmartObject Server Exception: Authorization failed. User: AAD:user@companyname.com
" error appears. This error prevents the user from proceeding to edit their views, forms, and workflows.
Symptoms
A "SmartObject Server Exception: Authorization failed. User: AAD:[user@companyname.com] Action: Publish SmartObject: [SmartObject name]" error occurs when attempting to create Data, Forms, Workflow, or Reports.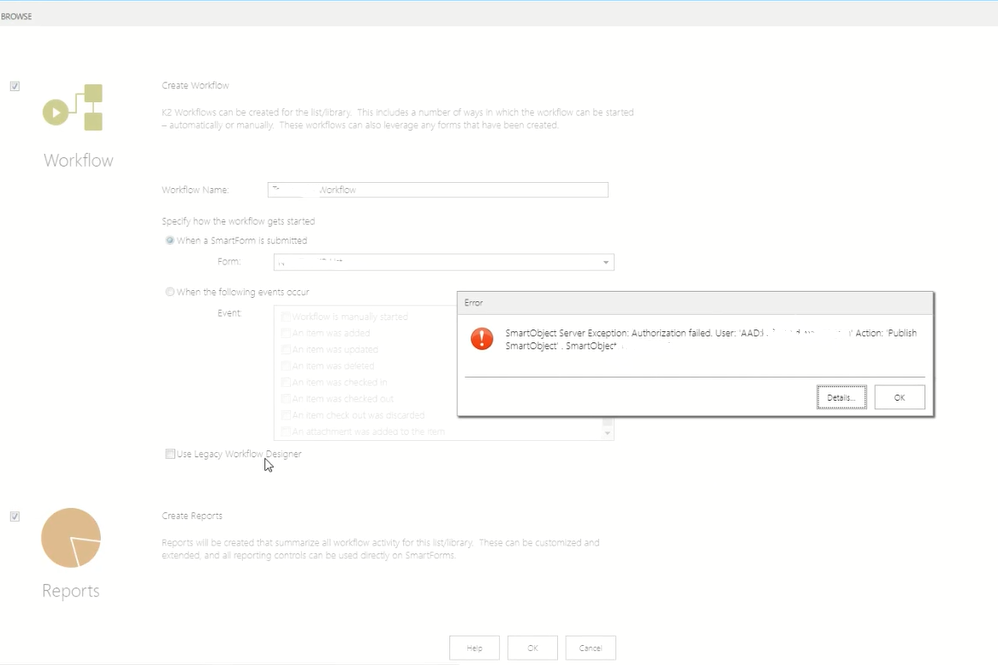 Troubleshooting Steps
This error typically occurs when the user shown in the error doesn't have sufficient SmartObject permissions. To add these, go to K2 Management > Integration > SmartObject Security, and select the "Add" button.

There, you will be able to search for and add the user(s) that require SmartObject permissions. Please ensure that you are searching under the AAD label, and not K2, which is set as the default.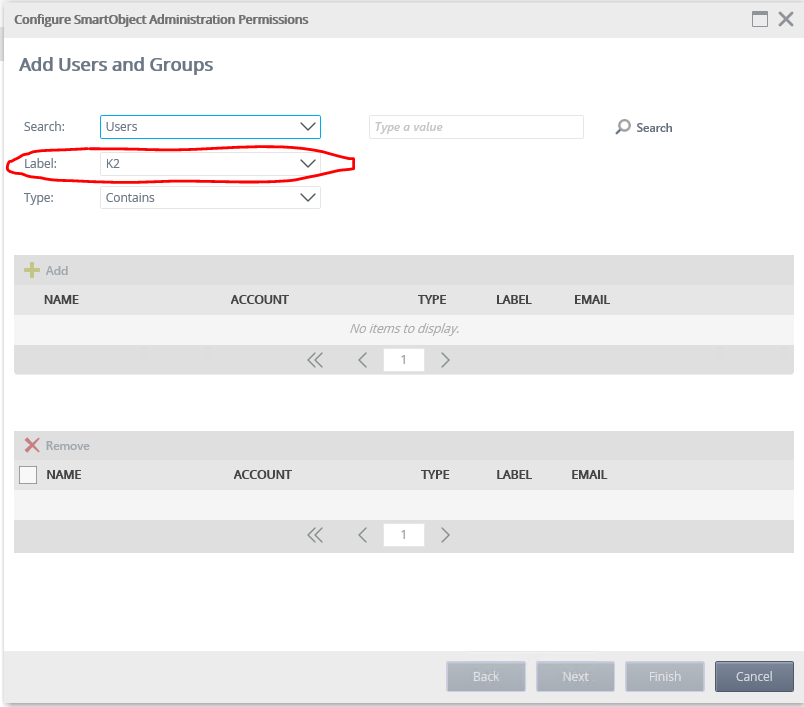 Once this user has been added, you will be prompted to select permissions. Provide them all permissions, select OK and the user should now appear. Once you have done this, go to Integration > SmartBox Security and do the same.
If you have already added yourself to these permissions and is still getting this SmartObject Server Exception, it is possible it's because you added your user under the K2 label and NOT the AAD label. To verify this, delete the current entries for your user and re-add them with the AAD label as described above.